PEERNOVATION: What Peer Advisory Groups Can Teach Us About Building High Performing Teams (2020)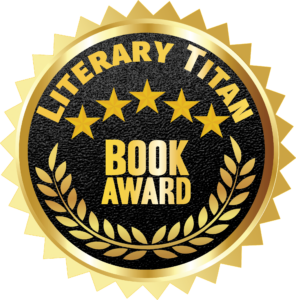 Overview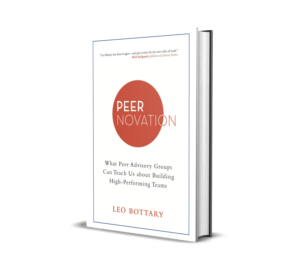 US Release (October 2020)  China Release (August (2021) 
Peer•no•va•tion (pir-nə-ˈvā-shən) combines the words peer (people of like status) and innovation (creativity realized). It's what happens when a group or team of people, who offer different perspectives and skills yet have a common purpose and shared values, work together to create something larger than themselves. It's teamwork of the highest order. This is where peer advantage (the act of being more selective, strategic, and structured about the people you have on your team) bears fruit.
It's simple, it's just not always easy. To make it easier, I stood on the shoulders of countless people to build, advance, and provide a 5-factor framework used by high-performing CEO peer groups for you to bring to whatever team you are leading or happen to be a member of.  The book is based on more than a decade of academic research, fieldwork, and personal experiences, where the concepts were pressure tested by groups and teams alike.  The best part is that it's a framework, not a prescription.  Who am I to tell you what's right for your team?  The framework helps you decide that for yourselves.
If you believe there is strength in numbers, that a great team is capable of achieving what no individual can do alone, and that meeting the challenges of a future we can barely imagine will require realizing a new level of excellence in our organizations, then Peernovation is for you.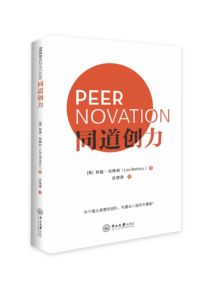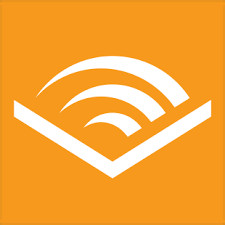 Endorsements
"Leo Bottary has done it again — and just in time for the new rules of work. Building on The Power of Peers, Bottary's new book, Peernovation, takes proven concepts for CEO peer groups to higher levels of team insights and company performance. In a post-COVID world, and with the emergence of AI across even more industries, Peernovation reminds us of what doesn't change – our humanity and our ability to collaborate and create. These will be the keys to thriving in the decades to come."
Rich Karlgaard, Publisher and Futurist, Forbes
"Outstanding book for CEOs, CFOs, and other senior executives dealing with the transition to agile. Some cool takeaways/reminders about human nature and teamwork. Leo has the rare gift as an author of taking difficult abstract concepts and translating them into an accessible, enjoyable narrative. Highly engaging, entertaining, readable, and full of well-explained big ideas. Read this book – and learn from one of the best."
Dr. Amarendra Bhushan Dhiraj, CEO & Editorial Director, CEOWORLD magazine
"Leo Bottary is the ultimate expert regarding how peers add value to an organization.  In his latest book Peernovation, he artfully explores the factors that lead to high-performing groups and team effectiveness.  In a time when teams must create globally impactful advances, it has never been more critical to learn how to get beyond silos, recognize the value of peers, expand perspective to make better decisions, and learn to work more effectively together."
Dr. Diane Hamilton, Author of Cracking the Curiosity Code
"An individual is simply no match for a group or team. With Peernovation, Leo has hit a home run with the notion that when WE have a common purpose and shared values, we work together to make each other better and create something larger than ourselves.  Leveraging your best judgment and the perspectives of your trusted peers will help one remain an effective leader. Our purpose of helping high-integrity leaders make great decisions that benefit their companies, families and communities has never been more important."
Sam Reese, CEO of Vistage Worldwide
"Leo has become the voice of inclusion. With an open mind and an open heart, we can become greater together. To innovate forward, to thrive in a Novel Economy, the idea of Peernovation is paramount, especially in a time of great divide."
Brian Solis, Digital Anthropologist, Best-Selling Author, Keynote Speaker
"One role of a leader is to look outside themselves and their companies for new ideas and opportunities. Thriving in times of change is all about the people. We increase our likelihood of success with a strong community of diverse thinking, inspiration and support. Leo's Peernovation framework shows a way to maximize mutual peer advantage."
Scott Mordell, CEO of YPO (formerly known as the Young Presidents Organization)
"Teamwork makes the dream work. As the business world slowly enters an era of collaboration and abundance, Leo's work is a guide for leaders to explore the infinite mastermind potential of their teams."
Alexander Keehnen, Founder and CEO, W.I.N Mastermind
"Peernovation is a must-read book for anyone who wants to achieve greatness in all that they do by leveraging the power that an effectively managed and led team can bring. The framework that Leo shares, which is based on more than a decade of academic and experiential research, will revolutionize the way your team operates. Apply his wisdom today and you will enjoy the benefits that it will bring!"
Simon Alexander Ong, Executive Coach and International Speaker
 "The adaptation of the ladder of influence into the reflexive loop is a marvelous tool and captures the true essence of the connection between beliefs, behaviors and the connection required in leadership. Leo Bottary has been an inspiration to the world of peer advisory and understands the importance of being part of this model for true team success. He takes the concepts to a new level in what he calls Peernovation that will ultimately bring a clearer understanding of how the power of groups win every time in the pursuit of perspective on complex and important decisions. Thank you, Leo for sharing your guidance and inspiration to the leaders of industry."
Todd Millar, President & CEO, and TEC Executive Chair at TEC Canada
"In Peernovation, Leo will show you how to surround yourself with a strategic group of peers and then harness those relationships to dramatically improve your thinking, your decision-making, your teamwork, and your ability to make a difference in the world."  
Craig Weber, Author of Conversational Capacity and Influence in Action.
"Leo Bottary gives us the playbook we need to embrace and embody this truth. He helps us get from "Me to We" and shows us through creative anecdotes, thoughtful exercises and the research to back it up that when there is teamwork and collaboration, wonderful things can be achieved."
Angela Maiers, Founder, Choose2Matter
"Me to We is the path to success personally, for companies and society. In this excellent read, Leo connects the dots between peer groups and work teams, and shows us the path forward in our evolution as humans …"
Dan Hoffman, CEO & Founder, Circles
"There are two types of leaders, in general, those who have to be the smartest in the room and those who surround themselves with really talented teams.  If you are in the category of the smartest in the room, this book is not for you.  If you want to learn how to attract, empower, and coalesce a high-performing team, congratulations, you have found the ideal book to achieve team nirvana."
Katina Koller, Vistage Chair and EOS™ Implementer
"The Power of Peers was the seed that inspired us to invite Leo to come to our hometown (Porto, Portugal) four years ago. He joined Ryan Foland and Rahfeal Gordon to speak to entrepreneurs about how mastermind groups could help them scale. During the visit, we all formed our own peer group that began in earnest during a 14k run through the streets of Porto and still continues today. Peernovation is a terrific read that demonstrates Leo's commitment to building better leaders, stronger teams, and a more collaborative world. We are grateful for his friendship and for having read his third and best book yet!"
Mike Dias and Mary Menezes, Co-CEOs, ScaleUpValley.com
"Peernovation is THE book you need to help navigate through the massive paradigm shift every business owner is currently facing. Our ability to interpret data, make critical decisions and navigate the challenge of business cannot be done alone.  Your peers face the same challenges as you. Together we are stronger!"
Ronan Leonard, Founder Eccountability Virtual Masterminds
"If you want a high performing team, (and who wouldn't?), then Leo Bottary's new book, Peernovation, will give you all you need to know. He teaches us that we learn better when we learn together with our peers because of a reinforcing and repeating loop of learning, sharing, applying and achieving. He proves this over and over again with case studies that illustrate the five factors common to high performing groups. The term Peernovation unites peers with innovation, and Leo shows us how to do that. What more could you want?"
Deborah Spring Laurel, Co-Founder, The Peer Learning Institute
"A must read for 21st Century leaders, "Peernovation" is one of the most important principles of our time. Being challenged to think differently is what drives success and economic growth, and Leo Bottary nails it in this engaging and practical guide to maximizing potential in the most challenging environment we have experienced in generations."
Laura Gordon, Chair, Vistage UK
"In a world of rapid change, engaging with and learning from others is essential for success. In Peernovation, Leo Bottary, provides facts, examples, and actions everyone can take to use the principles of peer collaboration to build, participate, and lead high-performance teams. A great read for anyone."
Jennifer Vessels, Founder EGA (Executive Growth Alliance) and CEO, Next Step
"Leo has done it again, truly at the forefront of peer observation and the undeniable power of the peers.  His first book enabled us to understand the literal power. This book allows us to understand, on a far deeper level, the amazing things that can be achieved when you collaborate and innovate. So much can be learned and then implemented for our teams and organizations to ensure that we succeed and advance forward. The possibilities are endless. We just need permission and the framework, and Leo covers both."
Adam Harris, Helping People Create and Have Presence
"In Peernovation, Leo has added the depth of experiences, stories, and a framework for continuous learning, for yourself as a leader, your peers, and the people you lead. Paraphrased from Peernovation, ' If we are to thrive in the future together…then we need to expand our circle of friends and colleagues, listen for understanding, demand better from our media, expect more from our leaders, and build on what we can agree upon.'  This is the journey to become a 'better you' that crystallizes the insights from Peernovation." 
Cecelia K. Houser, Ed.D., Principal, Korn Ferry
"In watching Leo Bottary work for the last decade or so, I've noticed a consistent message that he touts: the collective group is always significantly better than the individual. Never has that been more clear than in his latest book, Peernovation. Having been part of some of the high-performing CEO peer groups he's studied—both as a member and as a speaker—it's evident he has worked with some of the best leaders of people to provide you with a framework. A framework which will help you guide your team, so you never again see someone's shoulders shrug or hear them utter the words, 'It's just the way we've always done it.' If you follow his advice and choose your own adventure within the framework, your team will be innovative, creative, and effective. Read the book, study it, implement it, and then read it again."
Gini Dietrich, Founder and Author, Spin Sucks
"As an entrepreneur and CEO, I've relied heavily on three resources to be successful: A network of generous peers, talented and dedicated teams, and books like Peernovation that keep me and my work at the forefront of what's next. So, as you can imagine, any book that can show me how to leverage my peers more effectively and inspire my teams to perform even better is a must-read. I highly recommend it to any team leader or member!"
André Eidskrem, Founder IntraHouse
"In a business world where the main focus is the state of our P&Ls, Leo Bottary challenges us with the notion that organizations can be more innovative, impactful, and profitable if we start asking, "How can we help our teams be happier and more productive? In Peernovation, Leo shares his journey from me to we, using his proven work with peer groups to help us turn our attention to what makes a strong P&L possible – high performing teams! If you want to thrive in the years ahead, add Peernovation to your reading list." 
Jay Izso, CEO, Coaching Mavericks
"I have learned the hard way that who you surround yourself with matters. Leo's book, Peernovation, outlines a framework to harness the power of peer influence. The pages are filled with practical advice that shows why being more selective, strategic, and structured about the people we choose to surround ourselves with, is ultimately the driving force behind our success." 
Ryan Foland, Speaker and author of Ditch the Act, Reveal the Surprising Power of the Real You for Greater Success.
 "For over 25 years I have experienced the power of bringing people together with different backgrounds, experiences, industries, and stages of business life cycles.  When groups 'work together to make each other better' and get to transformational levels, they are considered 'high-performing.' Check. But the possibility to "create something larger than themselves" for the group and their respective teams…Challenge on."
Janet Fogarty, Master Chair, Vistage Worldwide
"Peernovation is the next step in Leo Bottary's journey that starts with how high-performing teams function and leads us to a place where a carefully selected group make each other better and create something larger than themselves. I enjoyed reading Leo's latest book and uncovering the way he marries the concepts of a peer (people like me) with innovation (creativity realized). I, too, believe in the power of collective intelligence, and Leo does an outstanding job explaining how we must be intentional in leveraging peer influence and peer advantage to our mutual benefit."
Richard Franzi, Visionary, Critical Mass for Business
"If there is one definite book you need to read about cultivating and strategically establishing an effective group for great results, it would be Peernovation! Never has a book like this come at a more perfect time in our current society. This book highlights profound knowledge for excellent teamwork. Leo does a flawless job in articulating some of the best methods and insights to help all of us elevate our group of peers! Great job Leo!"
Rahfeal Gordon, Chief Executive Officer, Madison + Park Global Branding Agency
"Learning what's in this book is valuable for your career whether you're just starting out,nearing the top or anywhere in between."
May (Chien) Busch, Executive Coach, Speaker, Advisor, Author
"Since harnessing The Power of Peers in his first book and illustrating What Anyone Can Do by surrounding yourself with the right people in his second book, Leo shines a light on a new aspect of peer influence with Peernovation. Leo dives into how shared values and common purpose from who you surround yourself with can lead to bigger and better outcomes than ever imagined. Consider Peernovation the next step in your journey to tap into the superpower of your peers."
George Glover, Chair, Vistage Worldwide
"Peernovation is a must-read book for anyone who wants to achieve greatness in all that they do by leveraging the power that an effectively managed and led team can bring. The framework that Leo shares, which is based on more than a decade of academic and experiential research, will revolutionize the way your team operates. Apply his wisdom today and you will enjoy the benefits that it will bring."
Simon Alexander Ong, Executive Coach and International Speaker