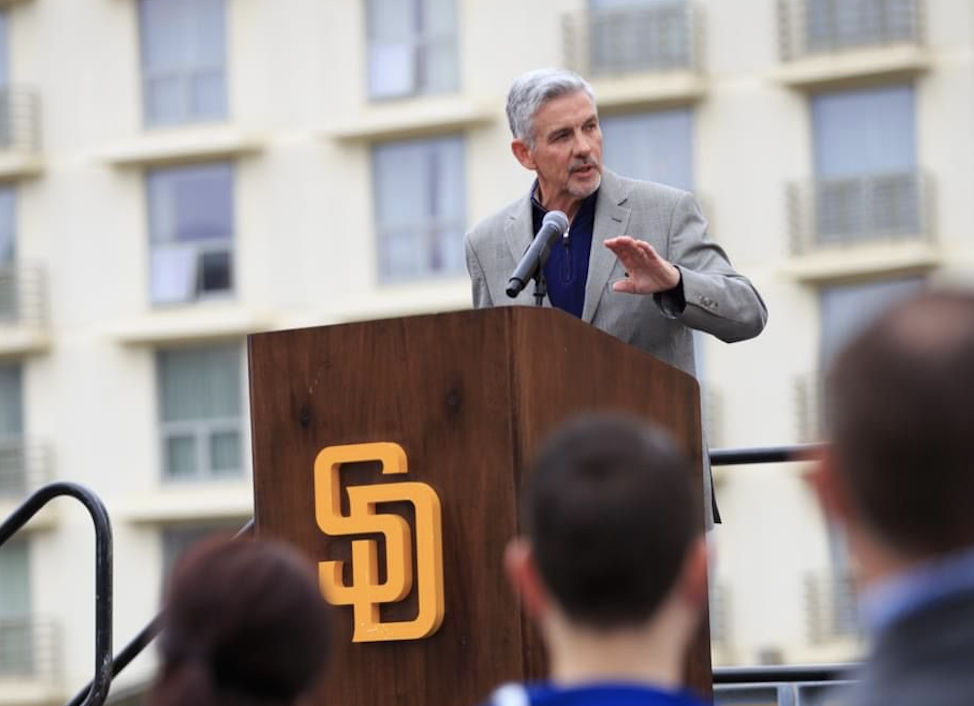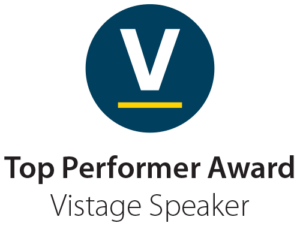 I am honored to have received one of Vistage Worldwide's Top Performer Awards for 2020, 2021, and 2022. The annual program recognizes speakers who have presented 25+ engagements, maintained a 4.5+ (out of 5) average score, and have a 95%+ recommendation rating. I am grateful to the Vistage Chairs who invited me to speak, and I remain committed to the members whom I hope received some benefit from our time together.
Testimonials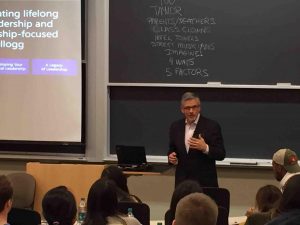 "Thank you, Leo Bottary, for providing such amazing material to help build such a great place to work. Peernovation has truly been engrained as part of our culture." — Amber Lowry, CEO (Chief Empowerment Officer), Syssero Named one of Inc Magazine's best workplaces in 2023 for highly rated company culture.
"Thanks, Leo Bottary, for knocking it out of the park! All of our REX Roundtables for Executives Members were impressed by your wisdom and opened their eyes to even more benefits of peer-to-peer learning!" — Eddie Tock, CEO, Rex Roundtables
"Leo motivated the Brand Marketing team at Lowe's by challenging us to become difference makers and asking us to commit to being great teammates. He gave just the right level of perspective to a team of over-achievers around how to relish in our quick wins….and to 'climb the mountain' as a series of bite-size journeys to make the climb more rewarding and achievable. He reminded us that none of us is smarter than all of us and left the team feeling inspired and ready to tackle another quarter ahead. For any publicly-traded company where a scorecard happens quarterly, it was just what we needed to celebrate a quarter ending and gear up for what's ahead." —Jennifer Wilson, SVP Marketing, Lowe's Companies
"Leo spent a day with our Senior Management team talking about 'The power of peers in the workplace and what high performing teams look like.' Leo spent the first part of the day watching our Senior team operate in a normal management meeting and then took the stage to talk about his topic. From the very beginning, he had the attention of our entire team. He was able to present his topics in an informative and convincing manner, but most importantly provided an environment that all senior team members felt comfortable in and as such contributed and collaborated on the topics presented in a manner that will ensure that we operate more effectively as a team.  His objective of taking this group of A players and exploring how they could raise their game as a team and discover new opportunities for collaboration both inside and outside their monthly meetings was accomplished in flying colors.  Our team felt this was the most valuable session that they had participated in.  THANK YOU, Leo!" — Ron McArthur, President, Napoleon
"It was a pleasure working with Leo to capitalize on the power of peers. Our group hadn't been face-to-face for three years and in our workshop, Leo effectively broke down silos and had the entire group better understanding the talents each individual brings to the collective. In our space where collaboration is key, Leo helped everyone celebrate the strengths of Peernovation." —Glynis Harvey, CAE and CEO of American Institute of Ultrasound in Medicine
"Leo helped my team at Taylor Guitars understand how to harness the underlying power of working together as a high-performing team of peers.  Before Leo, they already were a high performing team of peers, but now they work even more effectively by understanding how to maximize their peer advantage." — Xavier Downes, Vistage Chair
"I met Leo Bottary online when I was looking to strengthen my inner circle with the best leaders in the peer-to-peer industry. I couldn't stop until I finished the last page of his book, The Power of Peers. Some weeks later, we (CEO World and ANJE) invited him to come to Porto to deliver an incredible talk about Peer Advantage and participate in two peer group sessions. Leo is definitely a peer evangelist, always willing to support his peers to grow every single day." — Miguel Dias, Co-Founder, and CEO of ScaleUp Valley
---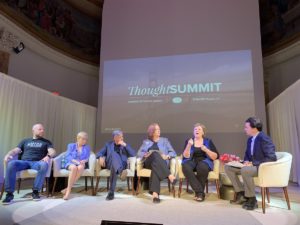 Types of Programs (In-Person or Virtual)
Since The Power of Peers book launch in March 2016, Leo has presented to academic and business audiences alike, engaging students at the prestigious Northwestern University (Kellogg) and University of Chicago (Booth) business schools, as well as working with the National Association of Women Business Owners (NAWBO), some amazing entrepreneurs at the ANJE Conference in Porto, Portugal and senior executives at the Executive Growth Alliance Get Future-Ready Conference in Oslo, Norway.  He has also led more than 350 workshops for Vistage Worldwide's CEO and Key Executive peer groups throughout the US, UK, Canada, and Australia.
Driving Higher Performing Groups and Teams 
Author and adjunct professor Leo Bottary has spent the last decade taking a deep dive into the field of group dynamics and their relevance to building high-performing teams in the workplace.  Since the release of The Power of Peers (2016), What Anyone Can Do (2018), and Peernovation (2020), Bottary has leaned on his personal experiences as a business owner and senior-level executive, his academic work, and field study in group dynamics to develop highly effective programs for peer advisory groups and organizational work teams alike.
Please find the following six new programs for 2023!
WEBINARS
1) How Peer Groups Can Help You Maximize Your Learning and Development Investment. With organizations across the globe spending north of $350 billion on training their employees, it's a clear priority yet a shockingly ineffective investment. Not because of the quality of the training, but because there's no mechanism for facilitating effective implementation.  The lessons are lost, as smaller teams charged with doing more even faster simply don't have the time or the forum to absorb and implement what they've learned.  As a result, everybody loses. Find out how peer groups inside your organization can help you breathe new life into your learning and development program! (50 minutes)
2) How Group Dynamics Can Drive Higher Performing Teams.  A presentation on how understanding group dynamics translates to building higher-performing teams in the workplace.  Bottary looks at high-performing teams in business and in sports and offers a simple group dynamics-based model for organizational teams that they can implement easily and immediately. (50 minutes)
3) The Power of We Begins With You.  A look at the power of peer groups for business leaders and why having both groups and teams inside your organization could be a difference maker. While reading books, going to graduate school, and hiring coaches can be useful, we know that we learn better when we learn together and from one another. Bottary reveals how and why peer groups are so effective and why every organization should consider creating internal peer groups to drive greater learning, alignment, and performance.  (50 minutes)

WORKSHOPS (Virtual or In-Person)

4) How Group Dynamics Can Drive Higher Performing Teams (Plus).  For leaders and teams who aspire to go beyond a one-hour webinar and roll up their sleeves, you'll self-assess yours team using a five factor framework, developed from the group model introduced in The Power of Peers and advanced in Peernovation. The workshop includes a number of dynamic/interactive exercises that will help you identify how to bridge the gap between where you are today and where you want to be tomorrow.  (Half -Day)
5) The 2.0 version of Bottary's CEO/Key Executive Peer Advisory Group Self-Assessment Workshop is designed for experienced peer advisory business groups who want to "up their game" and receive even more value from their investment. (Half-Day)
6) Who You Surround Yourself With Matters – An Aspirational Journey is designed specifically for newly formed business peer advisory groups who want to establish a solid foundation for growth and optimize their ability to create value for one another over time.  (Half-Day)
 
My workshops are very interactive and lots of fun! (Glasgow, Scotland, 2019)

WORKSHOP DETAILS
How Group Dynamics Can Drive Higher Performing Teams (Half-Day)
Who is this for?  Leaders of any organizational team (including a cross-functional team) who place a premium on maximizing their team's potential.
What is it?  Using the five factors common to high-performing teams, developed from the group model featured in The Power of Peers and advanced in Peernovation, this 3-hour workshop covers what members experience in their peer groups and provides them a 5-point framework for identifying how they can improve. They will then create an action plan for bridging the gap between where they are today and where they want to be tomorrow, with a focus on the following questions:
Right People – What would your employees say is the difference between the person who makes it in your organization and the person who does not? How do you screen for that?
Psychological Safety – Hiring the right people is one thing, creating a safe environment that inspires openness and risk-taking among your employees presents a different challenge. How do you see this dynamic among your team members?  How do you nurture it?  What can you do to make it even stronger?
Productivity – Are you doing everything you can to create a context for helping your team be as productive as possible? Let's start by talking about your meetings.  Are they valuable or not?  What can you do to make them (even) better?
Personal Responsibility – Do your employees feel they owe it to one another to bring their A games each and every day?
Leadership – How can you as a leader do more to support your team's success? What would you anticipate they would ask you to do?
What's the takeaway value? By reviewing group dynamics and how they relate to high-performing teams, employees will see more clearly how their actions as individuals and as a team can drive positive results.  It's an effective and unifying exercise that empowers everyone involved.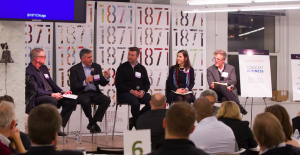 Harnessing Peer Advantage to Your Advantage: A Peer Group Self-Assessment 2.0 (Half-Day)
Who is this for?  Peer advisory groups for CEOs and key executives.  The original group assessment workshop has been conducted for dozens of groups which range from being fairly new to ones that are decades old.  For this newly updated assessment, it is recommended that the group has been together for at least two years.
What is it?  Developed as a self-assessment tool for peer advisory groups, the 3-hour workshop focuses on the five factors common to high-performing peer groups as outlined in The Power of Peers and later advanced in Peernovation. These factors (presented now as a reinforcing loop) are (1) Having the right people in the group; (2) promoting a safe and confidential environment; (3) fostering valuable interaction; (4) enjoying a culture of member-to-member accountability; and (5) having a servant leader who serves as the steward of the other four factors.
The program is divided into three segments. In Segment 1, Leo delivers a presentation about the five factors and details how and why high-performing peer advisory groups are so effective. This presentation sets the stage for the workshop.
In Segment 2, the group begins its work. The larger group is divided into smaller groups, where they engage in conversations about what each factor means to them and defines it in terms of an ideal state. As a group, they then rank themselves, using a scale of 1–10, based on their own definition of the ideal, and they identify what it would take to go from their current ranking to where they'd like to be in six months to a year. Looking at the first factor, for example, "having the right people in the group" is going to mean different things for different groups, depending upon what they believe would maximize member/group value. Members in a group of eight may decide that everyone would benefit if the group were larger and set an immediate goal of expanding to twelve members. They would also identify the attributes of the four new members, deciding what qualities would best round out the group. They would follow a similar process for the remaining four factors.
In Segment 3, members develop an action plan that gets them to their goal; if they've decided to expand their group from eight to twelve, for example, they create a plan for recruiting the four members with the desirable attributes they've identified. The group outlines a plan for improving upon each of the five factors, including providing invaluable feedback to the group leader.
What's the takeaway value?  The value is two-fold: 1) It serves to build a solid foundation for the group and the value each member can expect to receive.  2) Each member is provided a "lunch & learn" PowerPoint deck that can be used back at their own companies, using what they've learned about group dynamics to inspire the development of higher-performing teams.
Who You Surround Yourself With Matters – An Aspirational Journey.  (Half-Day)
Who is this for?  Peer advisory group leaders who are either launching a new group or combining two groups.  It is ideal for the group's first meeting, or if that's not possible, as early in the first year as practical.
What is it?  Using the five factors common to high-performing groups from The Power of Peers, the 3-hour workshop serves as an aspirational exercise designed to establish a solid foundation from the start.  It provides a framework designed to optimize the group experience, set expectations for participation, increase individual member value, and provide the group leader with specific guidance for leading the group over the coming year.  Members reach an agreement about what it will take as individuals and as a group to create the ideal peer group for them, based on the outcomes they hope to achieve.  It also provides guidance and an action plan for growing the group.  It essentially answers the questions: What do we want our group to look like in a year? What will it take to make that possible?  How will we make that happen?
What's the takeaway value?  The value is two-fold: 1) It serves to build a solid foundation for the group and the value each member can expect to receive.  2) Each member is provided a "lunch & learn" PowerPoint deck that can be used back at their own companies, using what they've learned about group dynamics to inspire higher-performing teams.
---
Get on the Calendar!
To book a webinar or a workshop or to invite Leo as a keynote speaker or panelist to your next in-person or virtual event, please complete this short form, and he'll get back to you directly.

[contact-form][contact-field label="Name" type="name" required="1″][contact-field label="Email" type="email" required="1″][contact-field label="Phone" type="text"][contact-field label="Company/Event" type="textarea" required="1″][/contact-form]