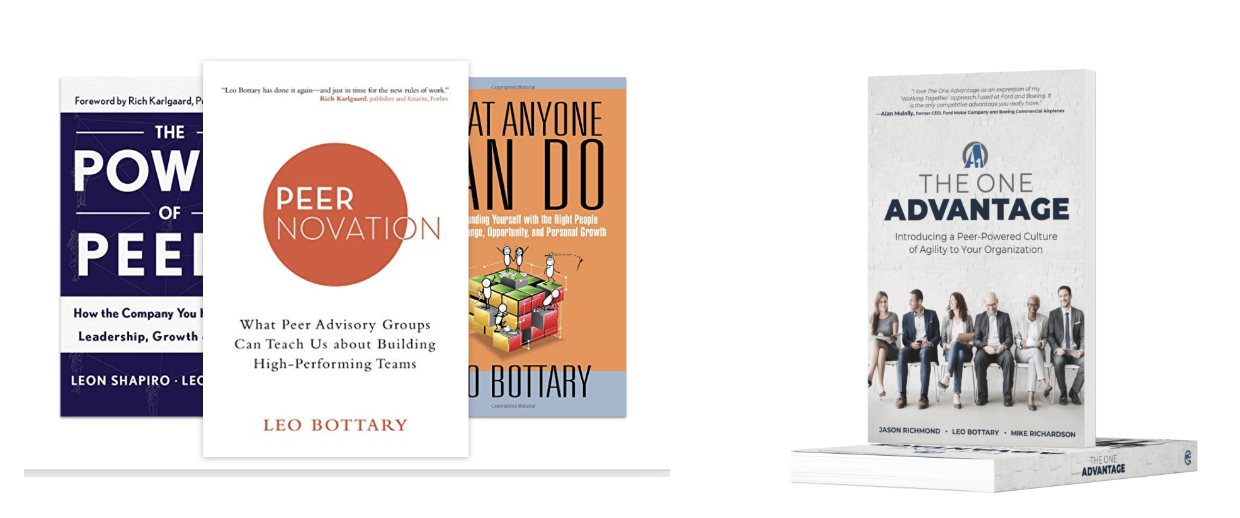 PEERNOVATION: What Peer Advisory Groups Can Teach Us About Building High Performing Teams  (October 2020)
Peer•no•va•tion (pir-nə-ˈvā-shən) combines the words peer (people of like status) and innovation (creativity realized). Peernovation is what happens when a group of people who share common values, yet offer different perspectives and skills, bring ideas to life.  It's teamwork of the highest order.  This is where peer advantage (the act of being more selective, strategic, and structured about the people you have on your team) bears fruit.
If you believe there is strength in numbers, that a great team is capable of achieving what no individual can do alone, and that meeting the challenges of a future we can barely imagine will require realizing a new level of excellence in our organizations, then Peernovation is for you.
WHAT ANYONE CAN DO: How Surrounding Yourself with the Right People Will Drive Change, Opportunity, and Personal Growth (September 2018) 
The Power of Peers made a strong case for how and why formal peer groups are so effective.  This book steps outside the formal peer group arena to examine all the important relationships we have in our lives (parents, teachers, spouses, mentors, children, mentees, etc.) and provides a practical approach and specific framework for harnessing their power for your benefit (and theirs).   It's what anyone can do.  You're anyone, right?
THE POWER OF PEERS: How the Company you Keep Drives Leadership Growth & Success (March 2016)
The Power of Peers was the first of my three books. I coauthored this narrative with Leon Shapiro to shine a light on how and why peer advisory groups (mastermind groups) for CEOs and business leaders are so effective. The book is available in three languages, demonstrating that your peers matter no matter where you live or what language you speak.
The Power of Peers features stories of business leaders from a range of industries to illustrate the five essential factors for peer advantage, how it impacts personal growth, and why it has proven so effective in helping leaders identify future opportunities and challenges. It's what top, growth-oriented executives have relied upon for decades to be successful in business and in life.
THE ONE ADVANTAGE (e-book): Introducing a Peer-Powered Culture of Agility to Your Organization   (April 2023)
The One Advantage brings innovative approaches to how we will address the challenges and seize the opportunities of our fast-changing world. By triangulating well-documented insights at the intersection of culture, peer power, and agility, we create synergies that increase employee ownership, bring an organization's purpose and core values to life, empower people to identify opportunity in adversity, and help teams act with greater clarity. This short e-book will introduce you to how bringing The One Advantage to your team will help you inspire them to new heights and chart your course for the future of work.
FOR MORE INFORMATION ON EACH OF THE THREE BOOKS AND THE NEW EBOOK, CLICK ON THE DROPDOWN MENU