Podcast: Play in new window | Download (Duration: 44:05 — 40.4MB)
Subscribe: Apple Podcasts | Google Podcasts | Spotify | iHeartRadio | TuneIn | RSS | More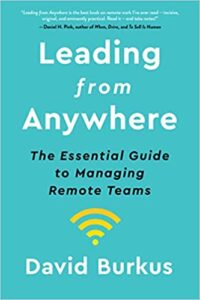 David Burkus is an author/speaker filled with forward-thinking ideas. He's the author of 4 bestselling books (plus 1 audio-only book) that help leaders and teams do their best work ever. David's newest book may be his most timely, Leading from Anywhere: The Essential Guide to Managing Remote Teams.
David holds a master's degree in organizational psychology from the University of Oklahoma, and a doctorate in strategic leadership from Regent University. David is a keynote speaker who is fully capable (and ready) to deliver compelling presentations virtually. He can also do them the old-fashioned way, live and in person.
David has some free resources on his website. We also highly recommend his YouTube channel.
Reach out to David on social media and let him know you heard him on the Peernovation podcast. It's our way of thanking our guests!
David Burkus on Twitter / David on Facebook / David on Linkedin / David on Instagram
We hope you'll read Leo's latest book, Peernovation: What Peer Advisory Groups Can Teach Us About Building High-Performing Teams. The Kindle version is just $3.99 (as we publish this today, February 2021) in order to make it available to as many people as possible. Buy it for you and your group or team members today.  If you like to listen, the audiobook is available now, too!.
#ThePowerOfWEBeginsWithYOU
#Peernovation
For ideas on why leaning on your peers and serving one another at this critical time has never been more important, listen to our podcast.  If you have questions or ideas for us, contact us today.
Useful links:
Leo's latest CEOWORLD articles
Leo's books – The Power of Peers, What Anyone Can Do, Peernovation (now published)
Subscribe to the YouTube channel
Connect with Leo on Linkedin | Twitter | Instagram