The One Advantage: Introducing a Peer-Powered Culture of Agility to Your Organization (2023)
Overview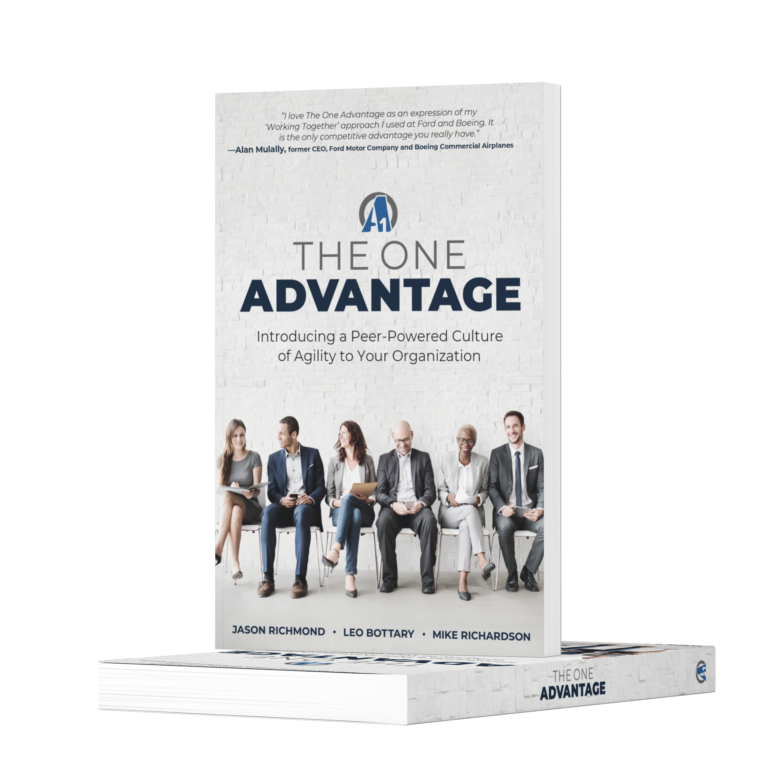 Our value proposition is born of three immutable truths: 1) Culture matters. It's at the core of an organization's capacity to achieve long-term productivity. 2) "Can do" cultures are driven by people—by peer influence. It's what runs horizontally through your company that strengthens what's vertical. It always has. 3) Agility stimulates adaptability and resilience, helping an organization confront anything that's thrown its way with flexibility and confidence.
The One Advantage brings innovative approaches to how we will address the challenges and seize the opportunities of our fast-changing world. By triangulating well-documented insights at the intersection of culture, peer power, and agility, we create synergies that increase employee ownership, bring an organization's purpose and core values to life, empower people to identify opportunity in adversity, and help teams act with greater clarity. This short e-book will introduce you to how bringing The One Advantage to your team will help you inspire them to new heights and chart your course for the future of work.
Richmond, Jason; Bottary, Leo; Richardson, Mike. The One Advantage: Introducing a Peer-Powered Culture of Agility to Your Organization (p. 6). Ideal Outcomes, Inc.. Kindle Edition.

Endorsements
"I love The One Advantage as an expression of my "Working Together" approach I used at Ford and Boeing. It is the only competitive advantage you really have."
Alan Mulally, former CEO, Ford Motor Company, Boeing Commercial Airplanes, and Boeing Defense and Space Systems
"It's so engaging that it's even led me to switch off my phone for several hours so I can read it, and in this social media obsessed age, I don't think I can give a bigger recommendation than that. The book is great. It's real, it's authentic. Very practical and very, very helpful. Let's all ask active, open questions—and stay hopeful, as the book suggests."
Prof. Dr. Amarendra Bhushan Dhiraj, CEO and Editorial Director at CEOWORLD magazine.
"The One Advantage delivers on its promise to triangulate well-documented insights at the intersection of culture, peer power, and agility, and create synergies to boost organizational development."
Sarah McArthur, Co-editor in Chief, Leader to Leader
"The One Advantage is a guide to be the leader that can harness the true potential of your employees through peer groups and teams in order to be more effective! Being able to tap into what state you need within business is critical for success. This book gives you the tools to empower others to accomplish just that!"
Amber Lowry, CEO (Chief Empowerment Officer)and Owner, Syssero
"In these times of accelerating disruptive change, it has never been more important for leaders to understand how their future trajectory pivots upon the one and only competitive advantage which they can rely upon: a peer-powered culture of agility. Starting in the board room, this book will help change the conversation throughout the enterprise."
Louise Broekman, CEO and Founder, Advisory Board Center
"Operational leaders need to drive impact in the face of ever-increasing and diverse challenges. Jason, Mike, and Leo deliver a compelling and instructive introduction to The One Advantage, which is very applicable to the modern workplace. This is an e-book well worth the investment of your time."
Ryan Niemann, CEO, Skuid