…just don't tell the little ones!  It appears that Santa(s) got a jump-start on the Year of the Peer today at the annual Crested Butte Santa Ski and Crawl (Pub Crawl, that is). The featured image was taken at last year's event. I caught up with a few Santas at today's spectacle (see below) who I could hear sharing all kinds of info that only Santas would truly understand, yet could benefit us all. Unless you've sat in Santa's Chair, with kids sitting on your lap asking you for stuff all day long, you can't empathize, but you can learn something.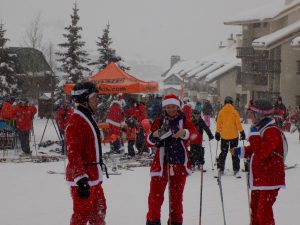 While part of the allure is setting the world record* for the number of skiing Santas, I got the sense that they just really like spending time together, talking Santa to Santa, if you will. It was snowing up on the mountain today, and while the conditions may have deterred some people, the Santas weren't even fazed – as you might imagine. This was nothing for them. I felt a little guilty eavesdropping, but I learned so much! Everything from how to groom one's beard in the off-season to what to wear on Christmas eve so that you can stay warm in Minnesota and still be comfortable in South Florida.
If you have friends or colleagues that you would love to give a present to this holiday season, but you really don't want to spend any money on them (or you want to add to what you're already giving them), sign them up to receive the weekly Year of the Peer Podcast – it's free and it will be the gift that keeps on giving in 2017!  Just tell them Santa(s) recommended it!
*As for whether there was a world record set today or not, I'll get back to you!