Podcast: Play in new window | Download (Duration: 27:19 — 25.0MB)
Subscribe: Apple Podcasts | Google Podcasts | Spotify | iHeartRadio | TuneIn | RSS | More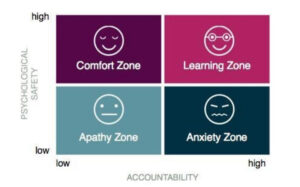 Today, we discuss how CEOs and other leaders are increasingly longing for ways to overcome the challenges of individuals and teams isolating themselves with a singular focus on their own role, without giving due consideration to the other teams who are also vital to the enterprise. Additionally, top-level leaders are gaining greater awareness that it's their responsibility to provide the psychological safety necessary to foster a high-performance culture.
Earlier this month Leo wrote a piece for CEOWorld Magazine entitled, "CEOs Tell Us What Happens in the Learning Zone." It's been about 20 years since Novartis Professor of Leadership at Harvard Business School, Amy Edmondson, first identified the concept of psychological safety and its importance to work teams.
On Medium, Leo published an article about the greater effectiveness of the School of Rock versus the classroom where Charlie Brown (of Peanuts) was a student.
We hope you'll buy and read Leo's latest book, Peernovation: What Peer Advisory Groups Can Teach Us About Building High-Performing Teams. The Kindle version is just $3.99 (as we publish this today, August 2021) in order to make it available to as many people as possible. Buy it for you and your group or team members today.  If you like to listen, the audiobook is available now, too!.
#ThePowerOfWEBeginsWithYOU
#Peernovation
For ideas on why leaning on your peers and serving one another at this critical time has never been more important, listen to our podcast.  If you have questions or ideas for us, contact us today.
Useful links:
Leo's latest CEOWORLD articles
Leo's books – The Power of Peers, What Anyone Can Do, Peernovation (now published)
Subscribe to the YouTube channel
Connect with Leo on Linkedin | Twitter | Instagram