As promised, for 50 weeks during 2017, I'll bring some of the best minds and most fascinating people in the world to the program.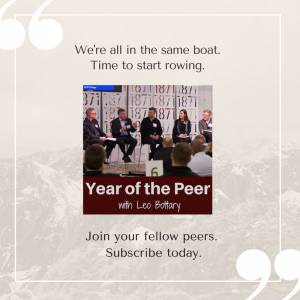 They will share their insights, stories, and recommendations about effective collaboration, leadership, accountability, vulnerability, and much more. We'll talk about what's next and look at how, together, we can prepare for a future most of us can barely imagine.
It all starts on January 12th with Charlene Li, and I'll invite guests to the program from all walks of life each and every week throughout the Year of the Peer.  If there's a guest you'd like me to invite to the show, I welcome your suggestions!  For both the cause and the podcast to be a success, it will take all of us, so I encourage you to share this post with your peers and get involved!
Subscribe today and don't miss a single episode!  Here's our lineup for Q1:
January 12th, Charlene Li, CEO of the Altimeter Group and Best-Selling Author
January 19th, Rich Karlgaard, Publisher and Global Futurist for Forbes
January 26th, Lewis Schiff, Founder & Executive Director, The Business Owners Council
February 2th, JJ Ramberg, Host of Your Business (MSNBC) and Business Owner
February 9th, Jim Kouzes, Coauthor of The Leadership Challenge and former CEO
February 16th, Vitaly Golomb, Investor & Global Startup Evangelist, HP Tech Ventures
February 23rd, Rahfeal Gordon, Inspirational Speaker/Author
March 2nd, Etienne & Beverly Wenger-Trayner, Scholars/Authors/Consultants
March 9th, Laura Goodrich, Co-Founder, GWT Next and author of Seeing Red Cars
March 16th, Linda Darling-Hammond, Professor Emeritus, Stanford Graduate School of Education
March 23rd, Leon Shapiro, Coauthor of The Power of Peers and former CEO
March 30th, Bri Seeley & Thais Sky, co-founders of The Amplify Collective
Who you surround yourself with matters!  Who's surrounding you?  See you in 2017! #yearofthepeer