Podcast: Play in new window | Download (Duration: 36:04 — 33.6MB)
Subscribe: Apple Podcasts | Google Podcasts | Spotify | iHeartRadio | Stitcher | TuneIn | RSS | More
Leo's first book (a book co-authored with Vistage CEO, Leon Shapiro) was titled The Power Of Peers. After the publication, our podcasting adventures started with The Year Of The Peer, the first iteration where we interviewed over 50 high achievers who taught us that peers should likely be viewed through a wider lens. Every person is influenced by a variety of people who help us learn and grow. From those interviews, Leo was inspired to write his second book, What Anyone Can Do (a title inspired by running coach Joe Henderson who observed that what differentiates most successful people from the rest of us is not their raw talent; its that they consistently do what anyone can do, that most of us never will).
Our pursuit of learning and evangelizing the peer advantage continues. We passionately seek to learn more about how all of us can benefit by being more intentional and purposeful in making our circle of influence as useful as possible. It's not just about our personal growth, but it's also about our joint cooperation to serve one another so we can all grow and improve.
During this pandemic Leo was able to complete his third book, Peernovation: What Peer Groups Can Teach Us About Building High Performing Teams. Due to be published this fall, Leo narrowed the focus to our most passionate pursuit, helping people learn and leverage the truth that who you surround yourself with matters! We also tightened our focus in the podcast, too.
The work isn't limited to books or this podcast, but it encompasses all of our work. Within the last year, Leo has launched a new company, Peernovation, LLC aimed at providing deeper insights and service to leaders, individuals, teams, and groups. Together, we're taking a sharper aim as we follow our belief that together we can accomplish so much more, individually and together. Peernovation is a professional service provider helping leaders build and create more effective teams. Peernovation also serves individuals and organizations who want to achieve elevated personal and group performance.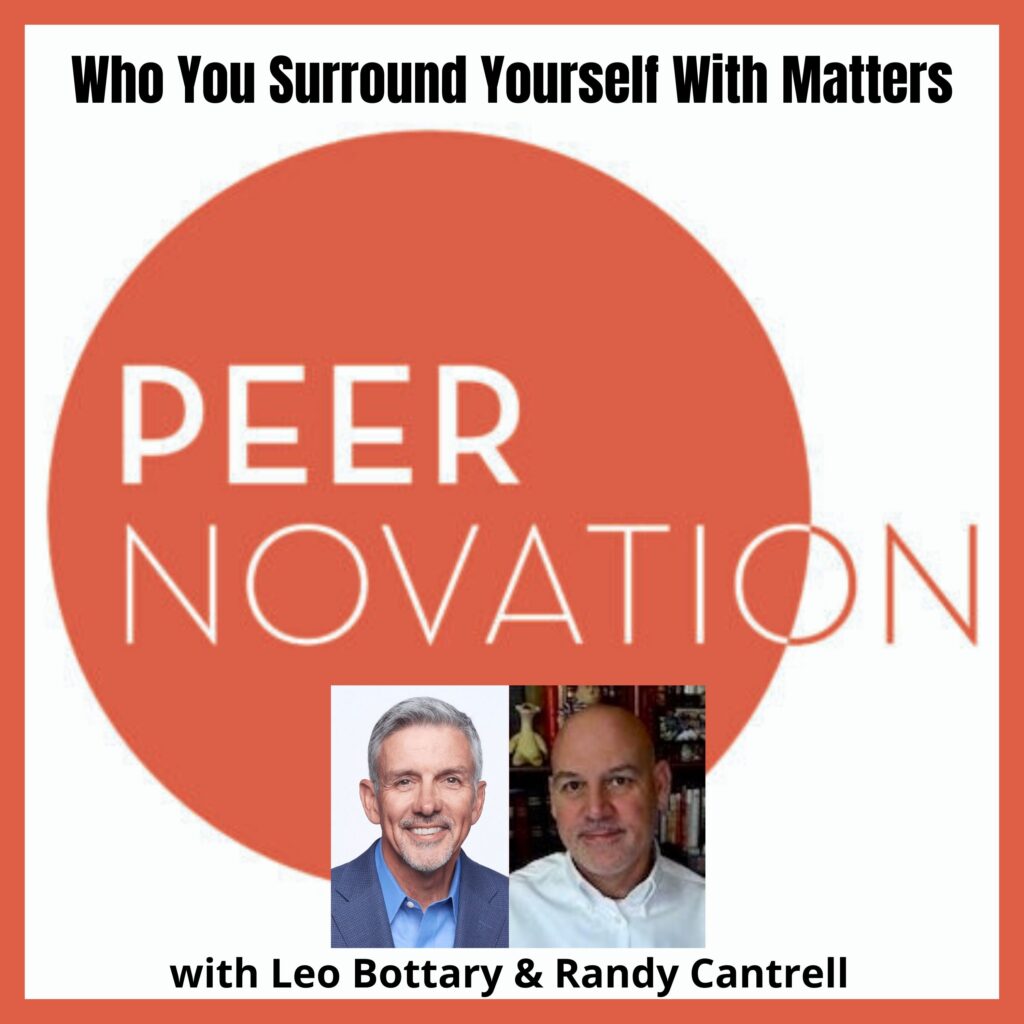 Beginning next week, we're rebranding the podcast as Peernovation. Our first guest is scheduled to be Craig Weber, author/speaker, and leader of The Weber Consulting Group. Craig authored Conversational Capacity and Influence In Action, books that provide valuable frameworks on how people can better engage in effective communication for improved performance.
#WhoYouSurroundYourselfWithMatters
#Peernovation
For ideas on why leaning on your peers and serving one another at this critical time has never been more important, listen to our podcast.  If you have questions or ideas for us, contact us today.
Useful links:
Craig Weber's books: Conversational Capacity and Influence In Action
When In Doubt, Do The Opposite, Leo's CEOWORLD article
Leo's books – The Power of Peers, What Anyone Can Do, Peernovation (Coming soon!)
The Peer Advantage – forming now, Randy's online/virtual charter peer advisory group for SMB owners
Subscribe to the YouTube channel
Connect with Leo on Linkedin | Twitter | Instagram